original title: "post-80s" female prime minister ardern, "star leader" how to win?
on 17 October, New Zealand ushered in election day 2020. The New Zealand Herald reported that the results showed a landslide victory for the Labor Party led by incumbent Prime Minister Yashinda Ardern, who easily won re-election.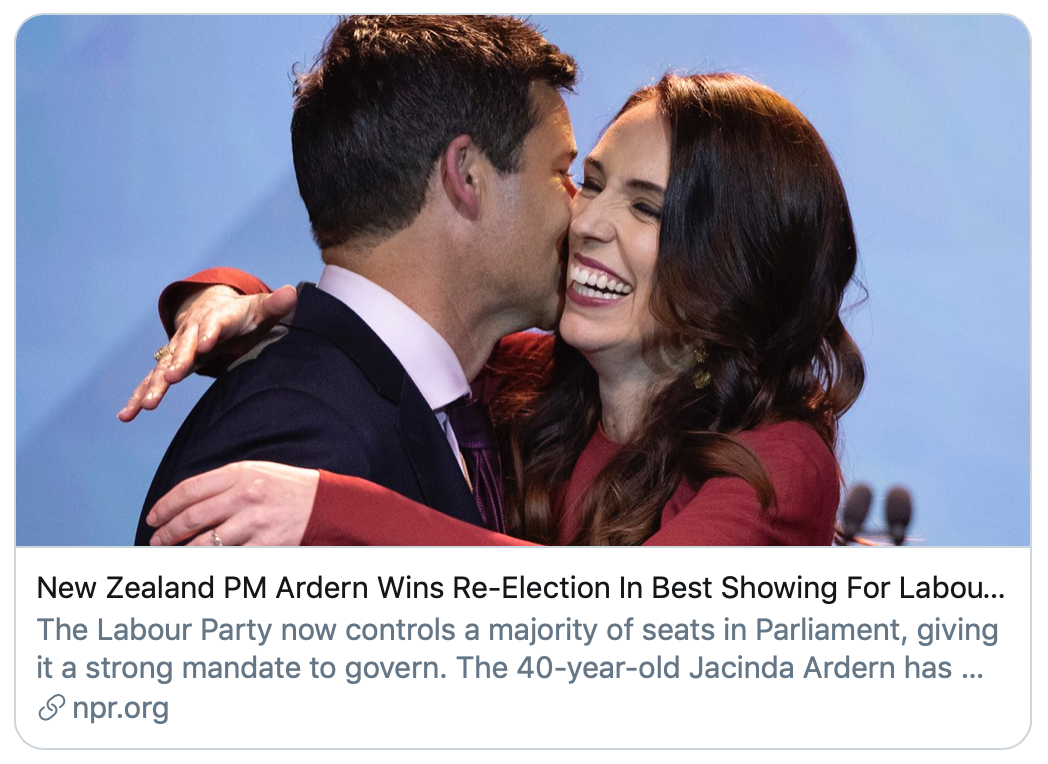 ardern wins re-election.
the election was originally scheduled for September 19, but was postponed to October 17 due to a rebound in the Auckland area. But starting October 3, voters will be able to vote early. By one count, more than a million people had voted before election Day.
in the context of the covid-19 epidemic, this election is also known as the "coronavirus election". Ardern had been praised for his handling of the outbreak, and analysts had seen him in little doubt of winning a second term. The final vote also proved that Ardern had not only won, but had won by a landslide.
ardern, born in 1980 and just 40 years old, is one of the youngest national leaders in the world. What was ardern's charm that led Labour to a historic victory? What did she do well in her first term?
Labour has won its biggest victory in nearly 50 years and ardern may yet form a coalition government
New Zealand's general election, also known as the parliamentary election, is held every three years. The leader of the largest party in the parliamentary majority or governing coalition becomes prime minister of the government.
Ardern's center-left labor party won 49.1 percent of the vote and 64 seats in the 120-seat parliament, its biggest victory in nearly 50 years, the BBC reported.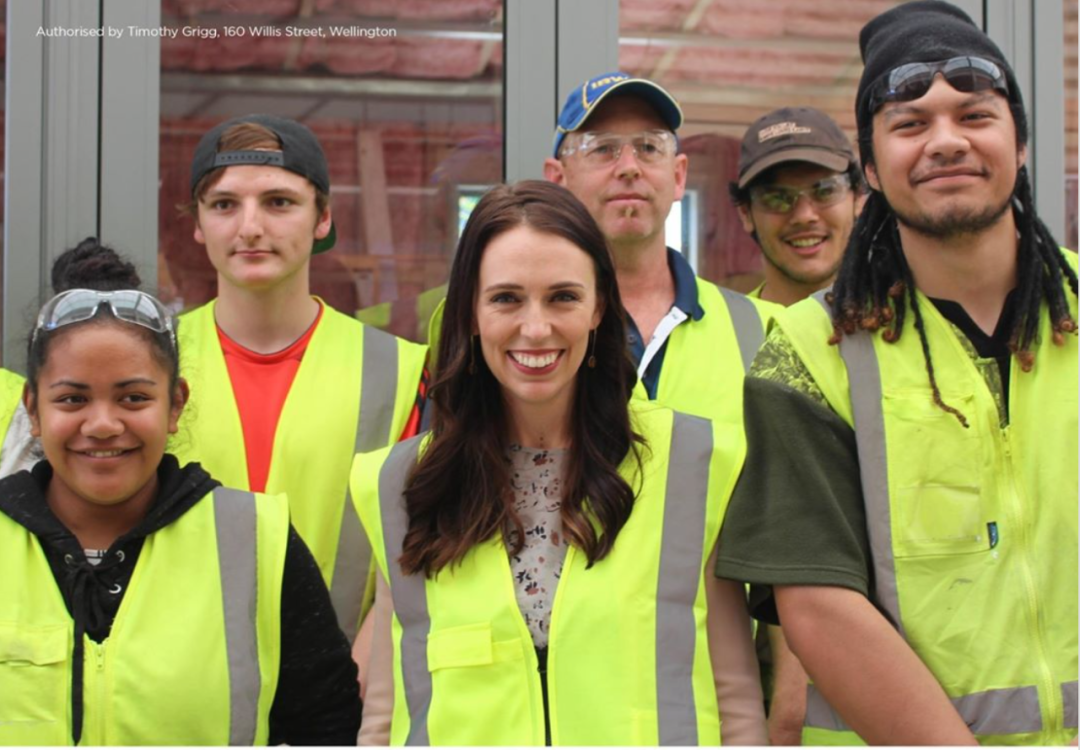 ardern and staff. Image from Labour social media account
the main opposition centre-right national party took 26.8% of the vote and won 35 seats in parliament. This is the lowest support for the National Party since 2002, when it won 44 per cent of the vote in the last general election. In addition, the New Zealand Action Party, the Green Party and the Maori Party won 8 percent, 7.6 percent and 1 percent of the vote respectively.
ardern told supporters on the evening of the 17th, "New Zealand has given Labour its strongest support in nearly 50 years. We will not take your support for granted. I promise you that we will be a party that governs for every New Zealander.
National party leader Judith Collins conceded defeat on Monday night, but said the national party would form a "strong opposition" and that "three years have passed in the blink of an eye… We'll be back.
Labour could become the first party to govern independently in decades after winning a majority of seats in parliament, the guardian said. In the 2017 general election, the National Party won the most votes, but labor, Priorities and the Greens eventually formed a coalition, with Labor leader Ardern as prime minister.
but ardern said Monday she would hold talks with her potential coalition partners to formally form a new government in two to three weeks. "we will continue to move forward very quickly on the agenda and we have clearly got a mandate from New Zealand," she said. The Greens said they had held talks with Ardern. Analysts say the Greens are likely to rejoin Ardern's coalition.
New Zealand's youngest prime minister in over 100 years, ardern "star leader" effect is obvious
BBC analysis suggests that Labour's landslide victory in this election was largely due to ardern's "star leader" effect.
ardern became prime minister of New Zealand in 2017, becoming the third female prime minister in New Zealand's history and the youngest in over 100 years. At the age of 37, Ardern unleashed an ardern frenzy that almost single-handedly reversed years of Labour decline.
less than three months after taking office, ardern announced she was pregnant. In June 2018, Ardern gave birth to a daughter with boyfriend Clark Gayford, becoming the first national leader to give birth in office in decades. Ardern then took six weeks of maternity leave, a rarity among national leaders.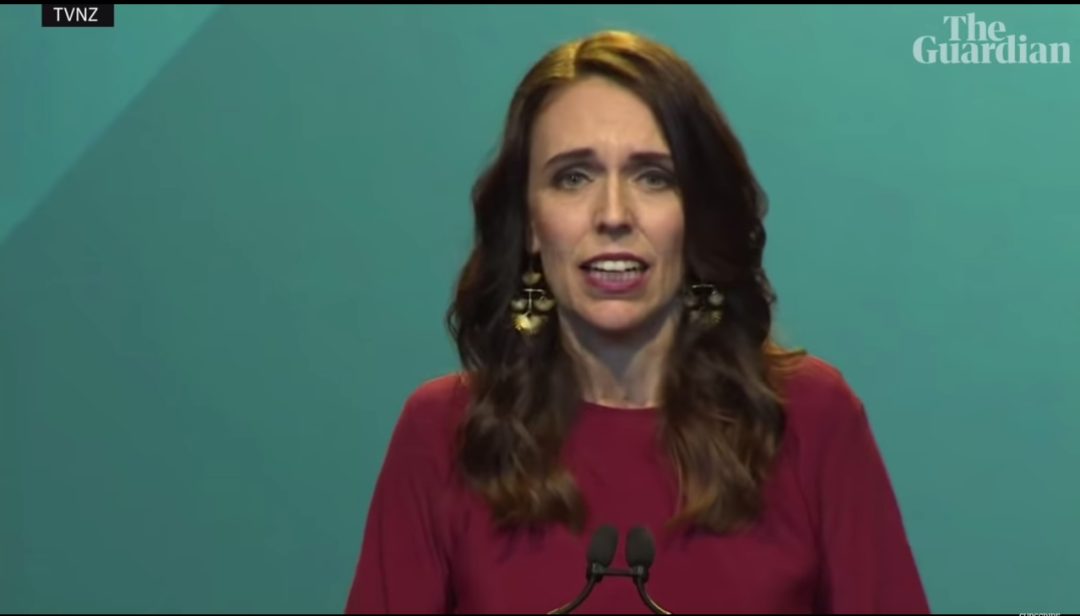 ardern. / guardian video screenshot
ardern faced many challenges during his first term — including a terrorist attack, a volcanic natural disaster and a global epidemic — but eventually won global acclaim for his excellent response, the Australian broadcasting corporation (ABC) reported.
in the wake of the March 2019 mosque shootings, ardern has been widely praised for both buying back guns and fast-changing gun control laws to ban most semi-automatic weapons. In December of that year, Ardern showed great empathy and action when the Volcano on the Isle of Wight in New Zealand suddenly erupted, killing more than a dozen people. In 2020, the coVID-19 epidemic swept the world and Ardern responded quickly. In mid-to-late March, ardern began to close the border and "seal off the country", achieving good anti-epidemic effect. So far, only 1,886 cases and 25 deaths have been confirmed in New Zealand.
In 2018, ardern was named "the most influential person in the world" by time magazine. Ardern has also been nominated for the Nobel Peace Prize in 2020 for her success in fighting the virus.
but other New Zealand political analysts say that after winning such high popularity ratings, ardern faces one of the most difficult leadership terms in Labour's modern history. Because expectations for her are already so high, it will be hard for her to keep her supporters from letting her down.
ABC said that ardern's first challenge after the formation of a new government will be to restore the economy affected by the epidemic and lead New Zealand out of recession. Eradicating child poverty remains a priority in her second term, with UNICEF's child welfare report ranking New Zealand 35th out of 41 developed countries.
two referendums have drawn attention: legalizing euthanasia and legalizing marijuana
In addition to electing a new government, New Zealand voters are faced with two other choices in this election: whether to support the legalization of euthanasia or marijuana.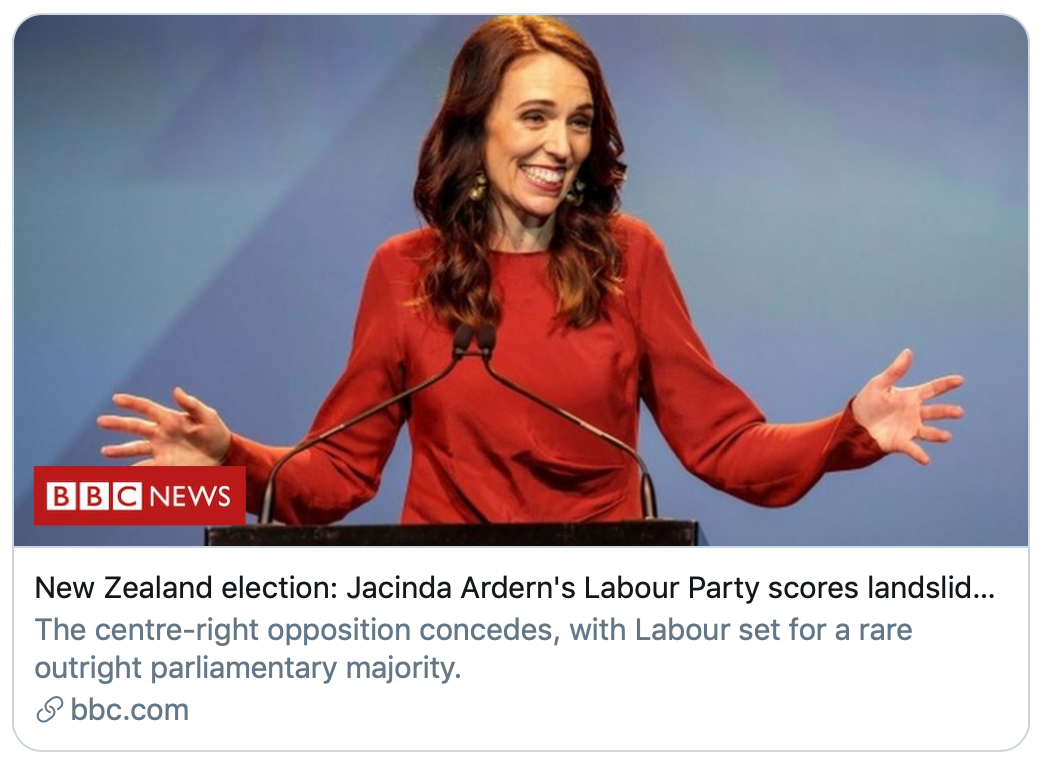 New Zealand Labour had won by a landslide. /BBC report screenshot
According to the BBC, the first referendum was on whether to support the legalization of euthanasia. The New Zealand Parliament passed a bill legalizing euthanasia in November 2019, allowing terminally ill patients to request medically assisted death. However, the law must be put to a referendum in this year's general election, and if more than 50 percent of voters support it, it will take effect in October 2021.
the second referendum was on whether to support the legalization of recreational marijuana. New Zealand passed a law in December 2018 allowing the use of medical marijuana. But legalizing recreational marijuana will be put to a referendum in the 2020 general election. However, the referendum is not legally binding and would require government legislation even if more than 50 per cent of voters support legalisation.
Preliminary results from both referendums will reportedly be announced on October 30.
wen/xie lian